Benefits

Reduction in costs through increased efficiency and durability
Reduced rate of injuries
Motivated, productive staff and less worker complaints
Improved risk awareness
Lower insurance rates and medical costs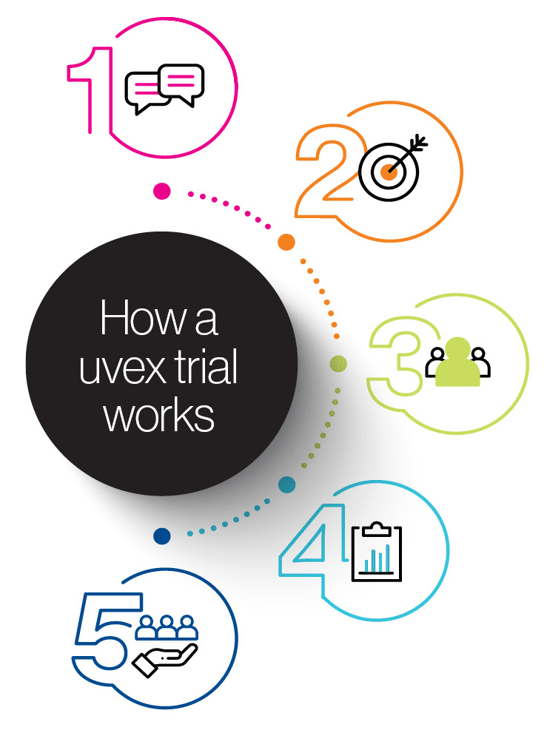 5 steps to an effective uvex product trial
1. Meeting
Meeting to establish any issues or areas of concern and assess your existing glove/eyewear solution. Find out what is working, what isn't and areas of improvement.
2. Site survey Support
Support to assess the hazards in the work environment, then help you navigate our range of PPE to find the right PPE solution? We will answer
the following questions with you:
a. What hazards are present?
b. How much protection is needed?
3. Select your trial participant
a. The uvex safety specialist will work with you to identify wearers to participate in the trial. We will help them, to understand the role they play, the benefits of taking part, and how important their honest and constructive feedback is.
b. We provide you with feedback forms that are easy to use.
4. Trial and feedback analysis
a. uvex provides you the products so that it can be tried practically in your environment.
b. We will collect the feedback form and provide you with the results, so you can inform your PPE decision-making and help secure internal buy-in.
5. After-support
Our uvex safety specialist will train your employees on proper use, care and evaluation of their new hand and/or eye protection.
Does your company:
Have at least 20 employees that need PPE?
Have a dedicated contact for our uvex specialist to work with to collect feedback during the trial?
Commit to providing feedback (positive or negative) to our uvex specialist during and after the trial?
If you answered yes to these questions, then you qualify for our trial request program! Fill out the form below and we will reach out shortly.